Our horizontal series heat exchangers have a vertical cooling section with horizontal air flow. This configuration is designed to be compact when there is limited real estate is available. The following models are available with single or multiple fan configurations with single or multiple cooling sections.
---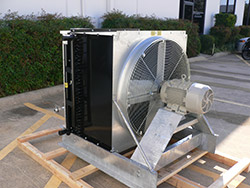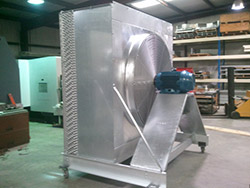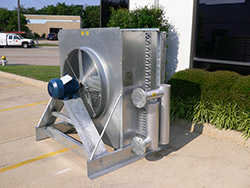 Types of Horizontal Air Flow Coolers
Type: AA
Air-cooled aftercoolers available for cooling reciprocating or rotary air compressors, blowers and various process gases. Used with air compressors these units offer close ambient approaches thereby condensing entrained water from the air system prior to separation or filtration.
Type: AO
Air cooled oil coolers available for cooling hydraulic power units, machine tools, compressors, engines, turbines, pump seals and power transmission devices. This model features the Nelson SPIRO-FIN turbulator preventing laminar flow with minimum pressure drop.
Type: AWG
Air cooled water-glycol heat exchanger for cooling engines or compressors. They can also be utilized for closed-loop cooling systms and various process streams.
Type: AC
Combination air cooled oil cooler and aftercooler for cooling rotary screw air compressors which eliminates your water and chemical treatment expenses forever. Overall maintenance costs tend be to less with air cooled equipment versus water cooled equipment.
Type: ASC
Air cooled steam condensers for condensing process steam flows, vent stacks and heat recovery systems.
---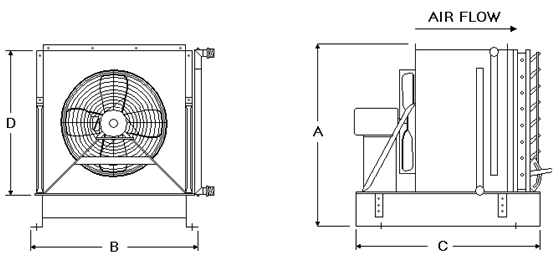 Cooling Air | Approximate Dimensions in Inches
| Model Number | Model HP | Motor RPM | Fan Dia. Inches | Airflow CFM | A | B | C | D |
| --- | --- | --- | --- | --- | --- | --- | --- | --- |
| 50 | 1 | 1800 | 24 | 5920 | 42.25 | 38.5 | 43.925 | 32.50 |
| 75 | 2 | 1800 | 24 | 8080 | 44.75 | 41 | 44.925 | 35 |
| 100 | 3 | 1140 | 36 | 12240 | 49.75 | 46 | 53.15 | 40 |
| 150 | 3 | 1140 | 36 | 15380 | 64.75 | 61 | 53.15 | 55 |
| 200 | 5 | 1140 | 42 | 21140 | 67.25 | 63.25 | 53.15 | 57.5 |
| 250 | 7.5 | 1140 | 42 | 27090 | 74.75 | 71 | 60.68 | 65 |
| 300 | 7.5 | 1140 | 42 | 27830 | 79.75 | 76 | 60.68 | 70 |
| 350 | 10 | 1200 | 48 | 34285 | 84.75 | 81 | 64.5 | 75 |
| 400 | 10 | 1200 | 48 | 34285 | 89.75 | 86 | 64.5 | 80 |
| 450 | 15 | 900 | 60 | 49355 | 94.75 | 91.5 | 72 | 85 |
| 500 | 15 | 900 | 60 | 49355 | 99.75 | 96.5 | 75 | 90 |
| 600 | 20 | 900 | 60 | 59788 | 104.7 | 101 | 86.37 | 95 |